Supermom In Training: $100 Birthday Party Series – Toddlers | Parenting 101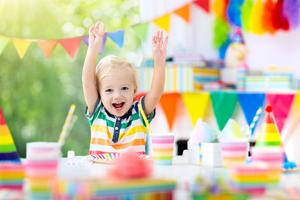 Birthday parties can be no fun for busy overextended parents. I'm excited to bring you my $100 Birthday Party Series with great ideas for themes, menus, decorations and even gifts for all age groups, all for under $100. Come back every week for more birthday party suggestions.
Another wonderful milestone, another party to plan. Don't worry – I've got you!
Here's how to put together the perfect toddler party for less than $100.
First off, it's gotta be a home party. You won't be able to stay within budget if you host it anywhere. If the party is in the warmer weather you can keep things outdoors. Otherwise, clear as much space as you can in your living spaces, set up some extra chairs, grin and bear it indoors.
Start with e-vites – you can use a free website to send out your invitations as well as track RSVPs, which is perfect for busy parents. 
Go with a theme that also makes it easy to come up with a corresponding menu. For example, if it's a Paw Patrol bash, make finger sandwiches and cookies in the shape of bones, or top cupcakes with bone-shaped candy (you can find those at Bulk Barn). For a LOL 'do, use lots of pinks and purples by making colourful fruit skewers, topping cupcakes baked in ice cream cones with sprinkles, or offering pink yogurt parfaits. Instead of spending an astronomical amount of money on custom-made desserts, print out a few small Paw Patrol/LOL logos and pictures, and use those instead. 
You can even print the same images onto full label sheets and then cut them out to stick onto paper cups, plastic utensil holders, and goodie bags. It will be MUCH cheaper than buying all the copyrighted party supplies.
This is a great age to add a game or activity to the party – nothing too complicated or expensive, but a fun way to add an element of entertainment to it all. If space permits or the party is being held outdoors, obstacle courses can be fun, or anything involving lots of balloons (put prizes inside and let them all pop them). If it's a colder month and you're stuck indoors, play hot potato, pin the tail, or do an Easter egg-style hunt involving something fun, like treats, which they can put into a bag and take home as a goody bag.
Food should be the basics, as toddlers can be picky, so stick to pick-plates such as cheese and crackers, veggies and humus or dip, fruit, cold cuts, tomato pizza, baguette, etc.
Happy birthday!
A full-time work-from-home mom, Jennifer Cox (our "Supermom in Training") loves dabbling in healthy cooking, craft projects, family outings, and more, sharing with readers everything she knows about being an (almost) superhero mommy.